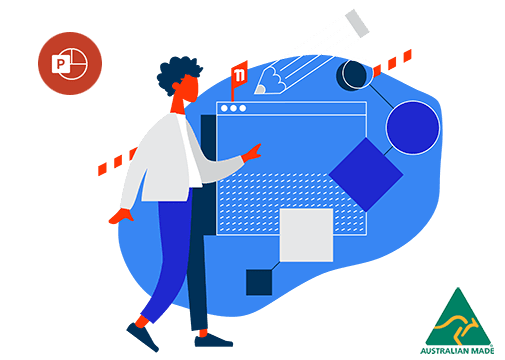 Microsoft PowerPoint Training - Level 2 - Bangkok
Create professional, polished presentations fast with PowerPoint.
All courses running remotely, instructor-led live online.

Learn how to utilize all the tools in Microsoft PowerPoint, taking your presentations to the next level. We will show you how to customize themes, work with charts, tables, images and action buttons, leaving you well equipped to create and manage professional presentations.

Courses are run remotely across Thailand including Bangkok.
Microsoft PowerPoint Training - Level 2 - Bangkok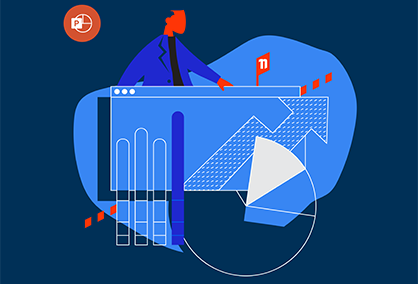 Create professional presentations efficiently. Learn from our experienced Microsoft Certified Trainers.
Upcoming Courses:
Scheduled
Taking enrollments.
Confirmed
Taking enrollments.
Sold Out
Try another date.
PowerPoint Level 2 Bangkok

Course Details
Times
9am - 4pm ( approx )
Reference Materials
Provided
Delivery
Instructor-led training
Address
999 Gaysorn Plaza
5th Floor Unit 5B-1 Ploenchit Rd
Lumpini Patumwan
Bangkok 10330


PowerPoint

Course Outlines
MO-300 PowerPoint Certification
   Try our short skills test and find out
which course is right for you.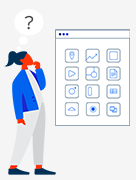 What do I need to know to attend?
The course is aimed at those already using PowerPoint and looking to take advantage of its full suite of tools. You should be familiar with the topics covered in our Power Point Level 1 course.
PowerPoint Level 2 Bangkok

Learning Outcomes
create and work effectively with themes
view and modify slide masters
create and use custom templates
create and work with tables
create and work with charts
insert and edit images
edit inserted images
insert and work with different types of media
create animations in a presentation
set up a presentation for the required presentation mode
save and share your presentations in other formats
PowerPoint Level 2 Bangkok

Course Content
Themes
Understanding Themes
Applying a Theme
Changing the Theme Colours
Creating Custom Theme Colours
Changing the Theme Fonts
Changing the Slide Background
Saving a Customised Theme
Using a Customised Theme
Deleting a Customised Theme
Slide Masters
Understanding Slide Masters
Viewing the Slide Master
Changing the Master Font
Modifying Bullets
Inserting an Image
Applying Slide Transitions to the Slide Master
Inserting Slide Numbers
Creating Custom Slide Layouts
Modifying Slide Layouts
Templates
Understanding Templates
Setting a Custom Templates Location
Using an Existing Template
Creating a Template From a Template
Saving a Custom Template
Creating a Template From a Theme
Modifying a Template
Using a Custom Template
Tables
Inserting a Table Using the Ribbon
Inserting Rows and Columns
Applying a Table Style
Merging and Splitting Cells
Adjusting Column Widths
Adjusting Row Heights
Resizing and Positioning a Table
Formatting Table Data
Aligning Table Data
Applying Borders
Applying Shading
Charts
Understanding Charts
Inserting a Chart Using the Ribbon
Changing the Chart Type
Chart Elements
Using Quick Layouts
Understanding Chart Buttons
Changing the Layout of Chart Elements
Applying a Chart Style
Understanding the Chart Format Panes
Formatting Chart Elements
Editing a Data Series
Hiding Data Series
Working With Pie Charts
Images
Understanding Clip Art and Pictures
Inserting a Picture From File
Inserting an Online Picture
Resizing an Image
Positioning an Image
Inserting Clip Art
Modifying Graphics
Rotating and Flipping Clip Art
Inserting a Screenshot
Inserting a Screen Clip
Creating a Photo Album
Enhancing Images
Understanding Picture Enhancements
The Format Picture Pane
Removing an Image Background
Applying Colour Corrections
Recolouring an Image
Applying a Picture Style
Applying Picture Effects
Applying Artistic Effects
Cropping an Image
Media and Action Buttons
Understanding Media in PowerPoint
Inserting an Online Video
Inserting an Online Audio Clip
Formatting Media Clips
Editing Audio Clips
Optimising and Compressing Media
Understanding Action Buttons
Inserting Action Buttons
Animations and Transitions
Understanding Animation
Animating Text
Animating Objects
Applying Multiple Effects
Applying Motion Paths
The Animation Pane
Setting the Timing
Animating SmartArt Graphics
Using Slide Transitions
Show
About Self Running Presentations
Recording a Slide Show
Setting Up a Self Running Presentation
Rehearsing Timings
Setting Up a Speaker-Led Show
Creating a Custom Show
Understanding Presenter View
Using Presenter View
Sharing
Packaging Presentations for CD
Saving a Presentation as a PDF Document
Saving a Presentation as a Video
Sending a Presentation via Email
Presenting a Slide Show Online
Saving to a Storage Device
Excellent, took the time to ensure that nobody was left behind. Made sure that we were allowed to ask questions how do to do things that we had in mind for after the course. Explained things in a manner that was simple English where you didn't need to be an IT specialist to know what he was speaking about.
Jodie - Power BI Beginner Perth,
24 Jan 2022
.
you have good teaching skills
Thanh - Power BI Beginner Perth,
24 Jan 2022
.
Perry is a great instructor.
Daman - Power BI Beginner Perth,
24 Jan 2022
.
Good pace for beginners Very informative Good exercises
Sarah - Power BI Beginner Perth,
24 Jan 2022
.
Good
Graeme - Power BI Beginner Perth,
24 Jan 2022
.
Communicated well, easy to understand instructions and provided visuals. Provided time to complete tasks and ask questions.
Sue - SharePoint Beginner Perth,
24 Jan 2022
.
Jagg, I appreciated your efforts and felt that you well knew the material. I also appreciated that you were prepared to stop and go back to explain material. However, I felt you could have spent more time on each of the 3 types or levels of visualizations- whole workbook, individual pages and individual visualization, which were a foundation for later work. Nevertheless, I eventually understood the concepts and was ready to move on. In fact, I felt that you were generally rushed, indicated by the high number of occasions you went back to help participants to catch up! Please be patient, careful, and align your mindset with participants who are truly beginners (like myself), not with those participants who are more advanced. If you do so, then you will travel at a pace more suitable to the slowest of us learners!
Donald - Power BI Beginner Remote Online,
24 Jan 2022
.
Great introduction to Power BI basics. I respect the level of patience you have with those who take a while to follow on. Thanks Jagg
Matteo - Power BI Beginner Remote Online,
24 Jan 2022
.
Jagg was clear with all his instructions throughout. He set up the day well by providing context. He was patient and would not let anyone's questions or confusions go unanswered. Not an easy thing when combining online with face to face. I came in to the session feeling nervous about my ability, and left with a new confidence. I could not fault Jagg or how the training session was conducted today.
Regina - Power BI Beginner Remote Online,
24 Jan 2022
.
Very helpful, easy to follow and happy to answer questions. Thank you, I got a lot out of the session, the key points which will allow me to start working with PowerBi more confidently.
Angela - Power BI Beginner Remote Online,
24 Jan 2022
.
No feedback . Online can be a challenge for those not familiar with MS teams.
Roger - Power BI Beginner Remote Online,
24 Jan 2022
.
Jagg paced the course very well. Questions were considered and answered clearly.
Louise - Power BI Beginner Adelaide,
24 Jan 2022
.