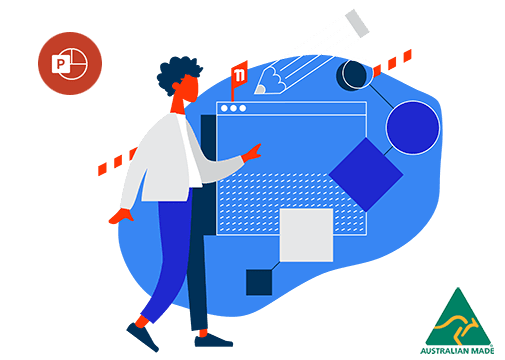 PowerPoint Training - Level 2 - Hong Kong
Create professional, polished presentations fast with PowerPoint.
Learn how to utilize all the tools in Microsoft PowerPoint, taking your presentations to the next level. We will show you how to customize themes, work with charts, tables, images and action buttons, leaving you well equipped to create and manage professional presentations.

Courses are run remotely across Hong Kong, join our instructors live online.
PowerPoint Training - Level 2 - Hong Kong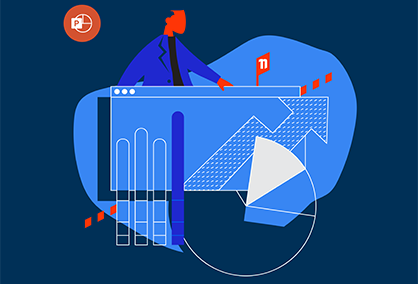 Create professional presentations efficiently. Learn from our experienced Microsoft Certified Trainers. Delivered remotely across Hong Kong.
Upcoming Courses:
Scheduled
Taking enrollments.
Confirmed
Taking enrollments.
Sold Out
Try another date.
PowerPoint Level 2 Hong Kong

Course Details
Times
9am - 4pm ( approx )
Reference Materials
Provided
Delivery
Instructor-led training
Address
16F & 17F
700 Nathan Road
Kowloon
Hong Kong


PowerPoint

Course Outlines
MO-300 PowerPoint Certification

Digital Literacy Certification
   Try our short skills test and find out
which course is right for you.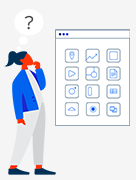 What do I need to know to attend?
The course is aimed at those already using PowerPoint and looking to take advantage of its full suite of tools. You should be familiar with the topics covered in our Power Point Level 1 course.
PowerPoint Level 2 Hong Kong

Learning Outcomes
create and work effectively with themes
view and modify slide masters
create and use custom templates
create and work with tables
create and work with charts
insert and edit images
edit inserted images
insert and work with different types of media
create animations in a presentation
set up a presentation for the required presentation mode
save and share your presentations in other formats
PowerPoint Level 2 Hong Kong

Course Content
Themes
Understanding Themes
Applying a Theme
Changing the Theme Colours
Creating Custom Theme Colours
Changing the Theme Fonts
Changing the Slide Background
Saving a Customised Theme
Using a Customised Theme
Deleting a Customised Theme
Slide Masters
Understanding Slide Masters
Viewing the Slide Master
Changing the Master Font
Modifying Bullets
Inserting an Image
Applying Slide Transitions to the Slide Master
Inserting Slide Numbers
Creating Custom Slide Layouts
Modifying Slide Layouts
Templates
Understanding Templates
Setting a Custom Templates Location
Using an Existing Template
Creating a Template From a Template
Saving a Custom Template
Creating a Template From a Theme
Modifying a Template
Using a Custom Template
Tables
Inserting a Table Using the Ribbon
Inserting Rows and Columns
Applying a Table Style
Merging and Splitting Cells
Adjusting Column Widths
Adjusting Row Heights
Resizing and Positioning a Table
Formatting Table Data
Aligning Table Data
Applying Borders
Applying Shading
Charts
Understanding Charts
Inserting a Chart Using the Ribbon
Changing the Chart Type
Chart Elements
Using Quick Layouts
Understanding Chart Buttons
Changing the Layout of Chart Elements
Applying a Chart Style
Understanding the Chart Format Panes
Formatting Chart Elements
Editing a Data Series
Hiding Data Series
Working With Pie Charts
Images
Understanding Clip Art and Pictures
Inserting a Picture From File
Inserting an Online Picture
Resizing an Image
Positioning an Image
Inserting Clip Art
Modifying Graphics
Rotating and Flipping Clip Art
Inserting a Screenshot
Inserting a Screen Clip
Creating a Photo Album
Enhancing Images
Understanding Picture Enhancements
The Format Picture Pane
Removing an Image Background
Applying Colour Corrections
Recolouring an Image
Applying a Picture Style
Applying Picture Effects
Applying Artistic Effects
Cropping an Image
Media and Action Buttons
Understanding Media in PowerPoint
Inserting an Online Video
Inserting an Online Audio Clip
Formatting Media Clips
Editing Audio Clips
Optimising and Compressing Media
Understanding Action Buttons
Inserting Action Buttons
Animations and Transitions
Understanding Animation
Animating Text
Animating Objects
Applying Multiple Effects
Applying Motion Paths
The Animation Pane
Setting the Timing
Animating SmartArt Graphics
Using Slide Transitions
Show
About Self Running Presentations
Recording a Slide Show
Setting Up a Self Running Presentation
Rehearsing Timings
Setting Up a Speaker-Led Show
Creating a Custom Show
Understanding Presenter View
Using Presenter View
Sharing
Packaging Presentations for CD
Saving a Presentation as a PDF Document
Saving a Presentation as a Video
Sending a Presentation via Email
Presenting a Slide Show Online
Saving to a Storage Device
Thanks for the ease of learning with you
Tanya - Word Intermediate Canberra,
7 Feb 2023
.
Great sessions. Your teaching methods are fantastic.
Tanya - Word Intermediate Canberra,
7 Feb 2023
.
Second session. Very personalised. Trainer encouraged students to be hands-on. Session drew on specific examples from workplace.
Carl - Word Intermediate Canberra,
7 Feb 2023
.
Great session. Very informative. Trainer very responsive to questions and feedback.
Carl - Word Beginner Canberra,
7 Feb 2023
.
great course
Adam - Word Beginner Canberra,
7 Feb 2023
.
great course
Adam - Word Beginner Canberra,
7 Feb 2023
.
Steven was excellent. Having done facilitation in my past, I appreciate that he kept his audience engaged with anecdotes and stories that were valid to the content we were exploring and allowed those that were starting to lose focus to come back into the fold. Steven was also good at gauging his students in regard to pushing through for another ten minutes as opposed to taking a break. Steven is clearly an experienced facilitator who knows his stuff. Thank you for your time & knowledge, it was great!!
Michell - Power BI Beginner Brisbane,
7 Feb 2023
.
Excellent Trainer. Engaging and knowledgeable.
Pieter - Power BI Beginner Brisbane,
7 Feb 2023
.
Excellent presenter who was able to pace the course to student requirements especially around when issues encountered. Ensured everyone was up to same progress in course before moving on. Excellent explanations of questions asked
Wayne - Power BI Beginner Brisbane,
7 Feb 2023
.
Very good instructions and real world practical applications
Mark - Power BI Beginner Brisbane,
7 Feb 2023
.
It was useful that the examples were put into relatable scenarios. Provided instructions which were easy to follow and understand which was appreciated as I do not have an IT background.
Briana - Power BI Beginner Brisbane,
7 Feb 2023
.
Took time to ensure everyone was keeping up. Would be better if a very quick summary of what the next step is going to be doing was explained first.
David - Power BI Beginner Brisbane,
7 Feb 2023
.