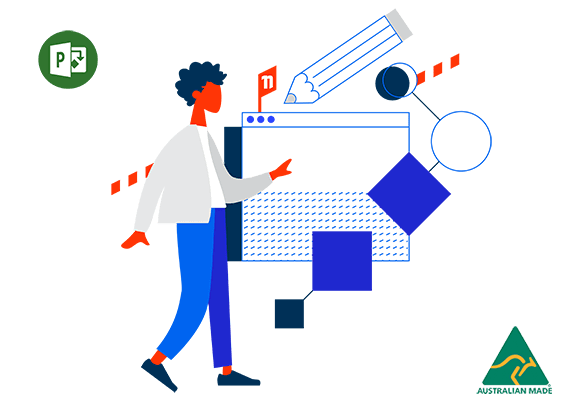 Microsoft Project - Intermediate Course - New Zealand
Learn how to manage project costs and budgets using MS Project
Our Microsoft Project Intermediate course, includes assigning resources to a project, progress tracking, allocating cost and working more productively with project views. This course build on the core knowledge taught in our Project Beginner course. View our full course outline below.

Learn from our experienced Microsoft Certified Trainers, in small classes, offered remotely across new Zealand.
Microsoft Project - Intermediate Course - New Zealand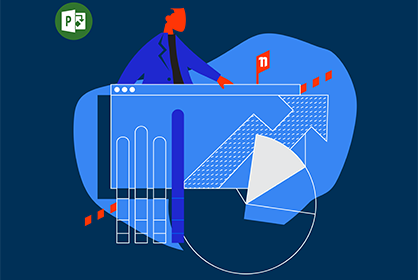 Assign resources to a project, track progress, allocate costs and work more productively with Project views. Remote Courses running in New Zealand.
Upcoming Courses:
Scheduled
Taking enrollments.
Confirmed
Taking enrollments.
Sold Out
Try another date.
Project Intermediate New Zealand

Course Details
Times
11am - 6pm (approx.)
Reference Materials
Provided
Delivery
Instructor-led training
Address
Remote Classes
Queen St
Auckland CBD
Auckland 1010


Try our short skills test and find out which course is right for you.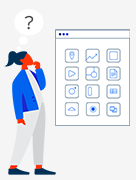 What do I need to know to attend?
You should have completed the MS Project Beginner course or be familiar with the basics of Microsoft Project. The course is aimed at those familiar with MS Project but looking to learn how to get the most out of the in-built features.
Project Intermediate New Zealand

Learning Outcomes
Understand different methods of fixing over-allocated resources
Understand how costs can be assigned to Work, Material and Cost Resources
Add and work with constraints to your schedule
Start tracking actual performance in a project
Understand how Views are created and create your own custom Views
Use Filters, Highlighting and Grouping to control how your Project data is presented
Format your Gantt Charts to highlight crucial information
Project Intermediate New Zealand

Course Content
Resource Levelling
Understanding Resource Levelling
Creating Resource Chaos
Tracking Down Over Allocations
Checking Resource Usage
Creating an Over Allocation Report
Fix 1 – Changing Work Effort
Understanding Overtime
Fix 2 – Assigning Overtime
Fix 3 – Hiring Contract Labour
Fix 4 – Switching Work Assignments
Fix 5 – Rescheduling Tasks
Assigning Materials
Assigning Fixed Material Consumption
Contouring Materials Usage
Adding More Material Assignments
Assigning Variable Usage Material
Adding to a Material Assignment
Checking Work for Materials
Costs
Understanding Project Costs
Reviewing Current Costs
Entering Variable Costs
Case Study Variable Costs
Assigning Daily Costs
Assigning Per Usage Costs
Assigning Fixed Costs
Assigning Material Costs
Using Another Cost Table
Applying a Different Cost Table
Changing Rates During a Project
Assigning Cost Resources
Viewing Project Costs
Constraints and Deadlines
Understanding Constraints and Deadlines
Reviewing Our Project
Adding a Constraint
Using Elapsed Time
Rescheduling Tasks
Creating a Deadline
Project Tracking
Creating a Baseline
Automatically Updating Tasks
Manually Updating Tasks
Entering Delayed Tasks
Tracking Actuals on a Gantt Chart
Using the Tracking Box
Viewing Task Slippage
Printing and Reporting
Printing a Gantt Chart
Printing Sheet Views
Printing Tasks for Resources
Printing Resources for Tasks
Project Views
Understanding Project Views
Working With the Standard Views
Creating Split Views
Creating a Custom View
Creating a Custom Combination View
Using Custom Views
Customising the View Menus
Saving an Existing View
Deleting Unwanted Views
Keeping New Views Local
Tables
Exploring Tables
Creating a New Table
Adding Fields Using Add New Column
Adding Fields Using Insert Column
Adding Simple Custom Fields
Formatting Table Fields
Creating a Simple Lookup Table
Using a Custom Table
Using a Hyperlink Field
Controlling Project Data
Understanding the Data Tools
Basic Data Highlighting
Highlighting Date Ranges
Highlighting a Range of Tasks
Highlighting Tasks With Specific Resources
More Highlight Filters
Applying Filters
Creating a Custom Filter
Using a Custom Filter
Editing Existing Filters
Deleting an Unwanted Filter
Grouping Tasks
Using AutoFilters
Formatting Projects
Understanding the Timescale
Changing Time Periods
Showing Tiers
Modifying Specific Tiers
Formatting for Non-Working Time
Changing Text Styles
Working With Gridlines
Displaying Progress Lines
Working With Progress Lines
Changing the Layout
Understanding Gantt Chart Bars
Changing Gantt Chart Styles
Changing Bar Text
Formatting Selected Bars
Changing Bar Styles
Printing Gantt Charts
Placing Printing Commands on the Ribbon
Using Print Preview
Setting Page Breaks
Printing Specific Dates and Pages
Printing Headers
Printing Footers
Working With the Legend
Getting the Right Report Fit
Exporting to PDF
Course was good, liked that the sheets etc. were pre-prepared so that we were all working on the same base. Content was relevant and not overdone in any area. John was friendly and engaging and dealt well with technological issues on the day.
Sharla - Project Beginner Melbourne,
22 Jun 2022
.
Jacqui was lovely and knowledgeable. Great session
Carmen - Power BI Intermediate Remote Online,
22 Jun 2022
.
Thanks so much for your training. I enjoyed and gained new tolls; I appreciated it was very informative.
Gloria - Excel Beginner Remote Online,
22 Jun 2022
.
Very informative and easy to follow, Jagg was lovely and made it very accessible
Grace - SharePoint Intermediate Remote Online,
22 Jun 2022
.
Clear explanation, covering some much information. Thank you
Pinky - SharePoint Intermediate Remote Online,
22 Jun 2022
.
Useful.
Joyce - SharePoint Intermediate Remote Online,
22 Jun 2022
.
Great session and nicely presented by Tamara.
Md - Python Beginner Remote Online,
22 Jun 2022
.
Course was excellent. Presenter was clear and concise. Remote learning environment worked well.
Daniel - Python Beginner Remote Online,
22 Jun 2022
.
Tamara is excellent. She is very good with explaining and happy to go back and help.
Wei - Python Beginner Remote Online,
22 Jun 2022
.
Jagg was a great trainer who explained things very well and was very patient
Zelda - SharePoint Intermediate Remote Online,
22 Jun 2022
.
Greg was extremely patient and professional. He knew what he was doing and I learned a lot from him. Considering that these were deep topics he did well to wrap it up in one day.
Muhammad - Power BI Intermediate Canberra,
22 Jun 2022
.
Rally good training, answered all questions and was very engaging.
Richard - Power BI Intermediate Canberra,
22 Jun 2022
.