;
Power Automate Training Courses
Improve productivity and efficiency through automation
Power Automate allows the end-user to build basic and more complex automations. Automate approval requests, escalations, create actions and tasks driven by data. Power Automate opens up many opportunities to connect your apps and use data to drive action.

Power Automate training courses now available remotely. Join class live online.
Increase productivity
Automate tasks and workflows
Share flow solutions with your team
Empower your team to achieve more
Power Automate Training Courses
Automate processes and workflows easily and quickly with Power Automate. Join us live online.
Frequently Asked Questions
What is Power Automate?
Power Automate is a Microsoft application which allows the non-technical user to connect different applications and drive actions. Using its vast library of templates, you can quickly create automated processes to take care of mundane tasks and free you up to focus on higher value-add opportunities. 


What is Remote Training?
Remote training at Nexacu, means our team of experienced trainers will deliver your training virtually. Students can access our usual classroom training courses via video conferencing, ask questions, participate in discussion and share their screen with the trainer if they need help at any point in the course. Students have the same level of participation and access to the trainer as they would in classroom training sessions. 
Power Automate

Course Details
Times
9am - 4pm ( approx )
Reference Materials
Provided
Delivery
Instructor-led training


Power Automate

Course Outlines
Try our short skills test and find out which course is right for you.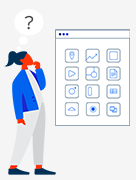 Knowledgeable and interesting training, will be very useful in my current work. -Power BI Beginner Perth
Marites - Power BI Beginner,
17 Jun 2021
.
Brilliant thank you -Power BI Beginner Perth
Stefan - Power BI Beginner,
17 Jun 2021
.
Excellent presentation. Clear and concise. -Power BI Beginner Perth
Kevin - Power BI Beginner,
17 Jun 2021
.
Knowledgeable and patient -Power BI Beginner Perth
Rhonda - Power BI Beginner,
17 Jun 2021
.
Easy style, very knowledgeable -Power BI Beginner Perth
Tapan - Power BI Beginner,
17 Jun 2021
.