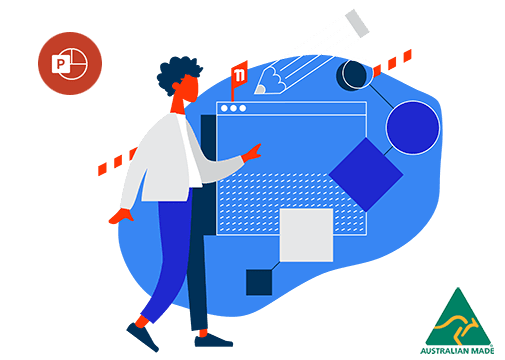 PowerPoint Training - Level 1 Jakarta
Professional presentations made easy with PowerPoint
All courses running remotely, join us live online.

Learn how to get started with Microsoft PowerPoint, edit existing presentations, design and create your own. Our PowerPoint training courses demonstrate how SmartArt can be used effectively and teach you the flexibility of working with shapes.

The course can be built upon with PowerPoint Level 2 in the future. Courses are delivered remotely across Indonesia including Jakarta.
PowerPoint Training - Level 1 Jakarta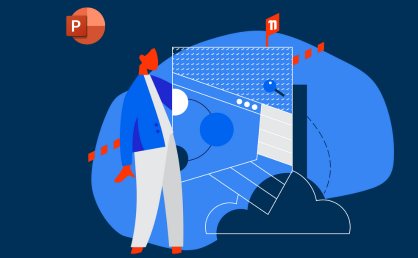 Learn PowerPoint basics in this beginner course and start creating presentations efficiently.
Upcoming Courses:
Scheduled
Taking enrollments.
Confirmed
Taking enrollments.
Sold Out
Try another date.
PowerPoint Level 1 Jakarta

Course Details
Times
9am - 4pm ( approx )
Reference Materials
Provided
Delivery
Instructor-led training


PowerPoint

Course Outlines
MO-300 PowerPoint Certification

Digital Literacy Certification
   Try our short skills test and find out
which course is right for you.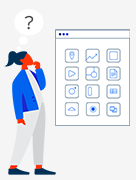 What do I need to know to attend?
There is no requirement for the Beginner course. The course is suitable for people who have never worked with PowerPoint or have just had very limited exposure to it. We will walk you through, right from the start.
PowerPoint Level 1 Jakarta

Learning Outcomes
work with the basic features of PowerPoint
create a new presentation
work with presentations
insert text into a slide and apply basic formatting
work with the various slide layouts
create and work with SmartArt graphics
draw and format shapes
navigate a slide show in PowerPoint
use a range of printing techniques
use procedures for various forms of Help
create brilliant presentations
PowerPoint Level 1 Jakarta

Course Content
Basics
Starting PowerPoint From the Desktop
Understanding the Start Screen
Creating a New Blank Presentation
The PowerPoint Screen
How Microsoft PowerPoint Works
Using the Ribbon
Using Ribbon KeyTips
Showing and Collapsing the Ribbon
Understanding Backstage View
Accessing Backstage View
Using Shortcut Menus
Understanding Dialog Boxes
Launching Dialog Boxes
Understanding the Quick Access Toolbar
Adding Commands to the QAT
Understanding the Status Bar
Customising the Status Bar
Exiting Safely From PowerPoint
First Presentation
Creating Presentations in PowerPoint
Creating a Presentation
Applying Theme Variants
The Save As Place
The Save As Dialog Box
Typing Text Into a Slide
Inserting New Slides
Typing Text Using the Outline Pane
Applying Slide Transitions
Saving a Presentation
Previewing a Slide Show
Closing a Presentation
Working with Presentations
The Open Place
The Open Dialog Box
Opening a Presentation
Opening Multiple Presentations
Switching Between Open Presentations
Understanding Presentation Views
Changing Presentation Views
Navigating a Presentation
Using the Zoom Tool
Opening a Recent Presentation
Text
Editing Text
Checking Spelling
Understanding Font Formatting
Applying Font Formatting
Applying Paragraph Formatting
Changing Bullet and Numbering Styles
Moving and Resizing Placeholders
Applying WordArt to Text
Converting Text to SmartArt
Layouts
Understanding Slide Layouts
Inserting a Title Slide
Inserting a Title and Content Slide
Inserting a Section Header Slide
Inserting a Table
Inserting a Picture With Caption Slide
Inserting a Chart
Changing the Slide Layout
SmartArt
Understanding SmartArt
Inserting a SmartArt Graphic
Inserting Text Into SmartArt
Adding Shapes Below
Adding Shapes Above
Adding Shapes Before and After
Adding an Assistant
Promoting and Demoting Shapes
Switching SmartArt Right to Left
Resizing SmartArt
Changing the SmartArt Layout
Applying a Colour Scheme
Applying a SmartArt Style
Deleting SmartArt Shapes
Shapes
Drawing Shapes
Resizing Shapes
Editing Shapes
Positioning Shapes
Arranging Shapes
Merging Shapes
Formatting Shapes
Using the Eyedropper
Copying Shapes
Aligning Shapes Using the Ribbon
Aligning Objects Using Smart Guides
Inserting and Formatting Text
Connecting Shapes
Grouping Shapes
Rotating Shapes
Preparing
Using Slide Sorter View
Reusing Slides
Adding Sections
Adding Notes to Your Slides
Slide Numbers
About Hyperlinks
Creating an Internal Hyperlink
Creating a Hyperlink to Another Presentation
Creating a Hyperlink to Another Application
Keyboard Shortcuts for Navigating Slide Shows
Using Resume Reading
Presenting a Slide Show
Printing
Understanding Printing
Previewing Slides
Printing Slides
Printing Handouts
Printing Notes Pages
Printing the Outline
Help
Understanding How Help Works
Accessing the Help Window
Navigating the Help Window
Using the Office Website
Googling Help
Printing a Help Topic
Brilliance Presentation
Planning a Presentation
Make It Readable
The Four Pillars of Great Design
Perfect Presentation Layouts
Presenting Polished Presentations
Presentation Methods and Hardware
COmprehensive - great tips on efficient shortcuts for Excel
Greg - Analysis & Dashboards Sydney,
8 Dec 2023
.
very nice and engaging, answered questions from participants and was accommodating to both physical and online participants.
Steffie - Power BI Beginner Kuala Lumpur,
7 Dec 2023
.
Was great, very methodical, ran many examples
Corey - Power BI Beginner Perth,
7 Dec 2023
.
Perry did a great job. I already have knowledge on Bi but with him explaining I gain other knowledge on how I can make my report more comprehensive and how I can make my report preparation easier
Marvel - Power BI Beginner Manila,
7 Dec 2023
.
Very well presented and covered the course nicely
Kevin - Power BI Beginner Perth,
7 Dec 2023
.
Great work. Well paced
Julie - Power BI Beginner Remote West,
7 Dec 2023
.
Great session. There was a lot to cover and I found the pace a bit fast. I got lost quite a few times but Ulfa was great with taking me back through the steps. Overall I enjoyed the session
Leisa - Power BI Advanced Remote East,
7 Dec 2023
.
Some of the area will need to provide more information.
Angela - Power BI Advanced Brisbane,
7 Dec 2023
.
Very knowledgeable in a range of areas and did a great job at answering question more specifically suited to my context. Went through at a great pace that allowed me to keep up.
Chris - Power BI Advanced Brisbane,
7 Dec 2023
.
Trainer was good and assisted all students.
Thomas - Power BI Advanced Brisbane,
7 Dec 2023
.
Extremely helpful training on Power Automate - covered many basic functions in a systematic manner which I would not have come by just by Googling and watching YouTube videos. Appreciated your patience as well to make sure each attendee was taken care of and could follow along with the many steps involved.
Jovita - Power Automate Beginner Remote East,
7 Dec 2023
.
Jagg explained things well and at a good pace. When my computer had to reload suddenly, and I fell behind he was able to quickly help me catch up to the class. Thanks for all your help Jagg and the Bookmarks and Row Level Security info was particularly useful.
Anita - Power BI Intermediate Remote East,
7 Dec 2023
.