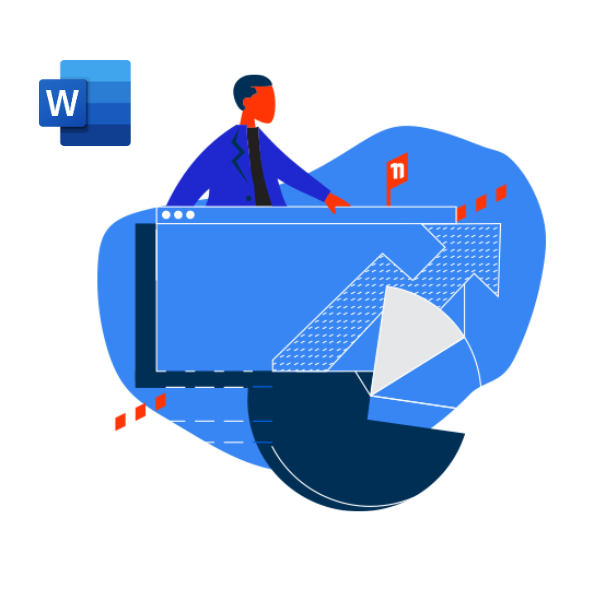 Microsoft Word Training for your team
Building your documents the smart way.
Learn how to utilise all the tools in Microsoft Word, taking your documents to the next level. Master in-built tools to create professional formatting themes, work with tables, shapes, images and more. These skills not only improve the visual appeal of your documents but improve your team's efficiency, allowing them to produce more professional documents in less time.
Use a range of formatting techniques
Work with word options and document properties
Create and work effectively with themes
Smart Headers and Footers
Using Templates
Using Mail Merge
We can deliver all of our training to
your team
live via
remote login
.

Word Corporate Training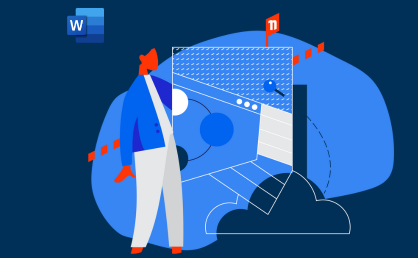 Learn the skills required to take your documents to the next level. Our training can be customised to suit the requirements of your team, delivered live online via remote login.
Customize your Microsoft Word Training
We understand that all organizations work differently. If our standard course outlines do not meet your training goals, we can work with you to understand your requirements and customize a course to suit. We are passionate about making sure each participant reaches their next level of capability.

We can deliver all of our training to your team live via remote login.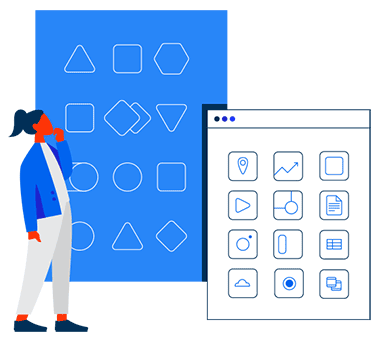 We are market leaders

With a five star rating from over 20,000 reviews, we are the leading provider of Microsoft Training Courses.

We are passionate about connecting with students and clients, sharing knowledge and enabling understanding.
We are dynamic, constantly seeking new ways to update and improve our courses, curriculum and service delivery.
We deliver next level learning for your team 
Checklist for Success
Internet Connection
A reliable internet connection is required to deliver this training successfully.
Hardware
One computer or laptop per participant required. A second screen is recommended.
Software and 

Licenses
All required software must be installed and latest updates run. Each participant must have an assigned license to run training smoothly.
Data Sources

We provide the files & data for all training ahead of the training date. Client files and data can be incorporated into training.
We have engaged Nexacu for a number of sessions in Excel and MS Project training for our employees.
Terry is wonderful to deal with when making the bookings and the high level of experience the trainers hold is evident.
we will definitely use them again in the future.
Cara Thompson - Civilex - Melbourne
We have run multiple Excel Intermediate and Advanced courses in-house with Nexacu and have always had a good experience. Very easy to organise and flexible with bookings. Stuart is an enthusiastic trainer and is always happy to help- he provides his email to offer support to students after each course.
Maddy Galassi - Arrow Energy - Brisbane
The course was very useful and the trainer was perfect. He was clear with all the information he provided. Very informative course. Learnt a lot of new techniques.
Vidya Jagdale - Blackmores - Sydney
Excellent teacher, great content, Thank you!
Xenia - Power BI Intermediate Perth,
20 Sep 2023
.
Perry was very patient and knowledgeable. He explained everything clearly and I learnt a lot. Thank You Perry. Great course structure and facilities.
Joanne - Power BI Intermediate Perth,
20 Sep 2023
.
Very in depth - a shame we couldn't cover all topics.
Llewellyn - Power BI Intermediate Remote West,
20 Sep 2023
.
Really good, I liked that we didn't spend too much time on just creating visuals.
Luke - Power BI Intermediate Perth,
20 Sep 2023
.
Everything explained really well.
Nishand - Power BI Intermediate Perth,
20 Sep 2023
.
Sue did well. the course was much easier being completed in the classroom with multiple screens compared to the beginner course I did was off the laptop. A few random events occurred like data view not showing the data but was able to be used in the report which was interesting... wasnt able to be interrogated due to time but would be interested to know why....
Nic - Power BI Intermediate Perth,
20 Sep 2023
.
The trainer delivered the content in such a way that I could follow the process well
Rebecca - Power BI Intermediate Perth,
20 Sep 2023
.
Thank you.
Simon - Power BI Intermediate Perth,
20 Sep 2023
.
Got the info across well
Colin - Power BI Intermediate Perth,
20 Sep 2023
.
Very Good
Rikki - Power BI Intermediate Perth,
20 Sep 2023
.
Well done, you managed to get us finished even with a slight delay to the start of the day. Course was pitched at the right level, and you were very helpful.
Leanne - Excel Beginner Adelaide,
20 Sep 2023
.
ok
THINH - Microsoft 365 Beginner Remote East,
20 Sep 2023
.